Chuck Norris, now 83 Is a 'Softy' Who Loves to Cook for His Big Family — Meet His 5 Kids With Different Paths in Life
Chuck Norris was deeply influenced by his mother, who instilled in him a strong sense of self-worth and responsibility.
He's a proud dad of five kids
The actor is proud that his twin children with Gene share the same interests as him.
Chuck Norris is an enduring legend in Hollywood and a true pop culture icon. Now in his 80s, it appears that a new generation within his family is gradually stepping into the limelight, following in his remarkable footsteps.
Despite the immense recognition he has garnered for his memorable on-screen portrayals, Chuck has always placed family as his foremost priority.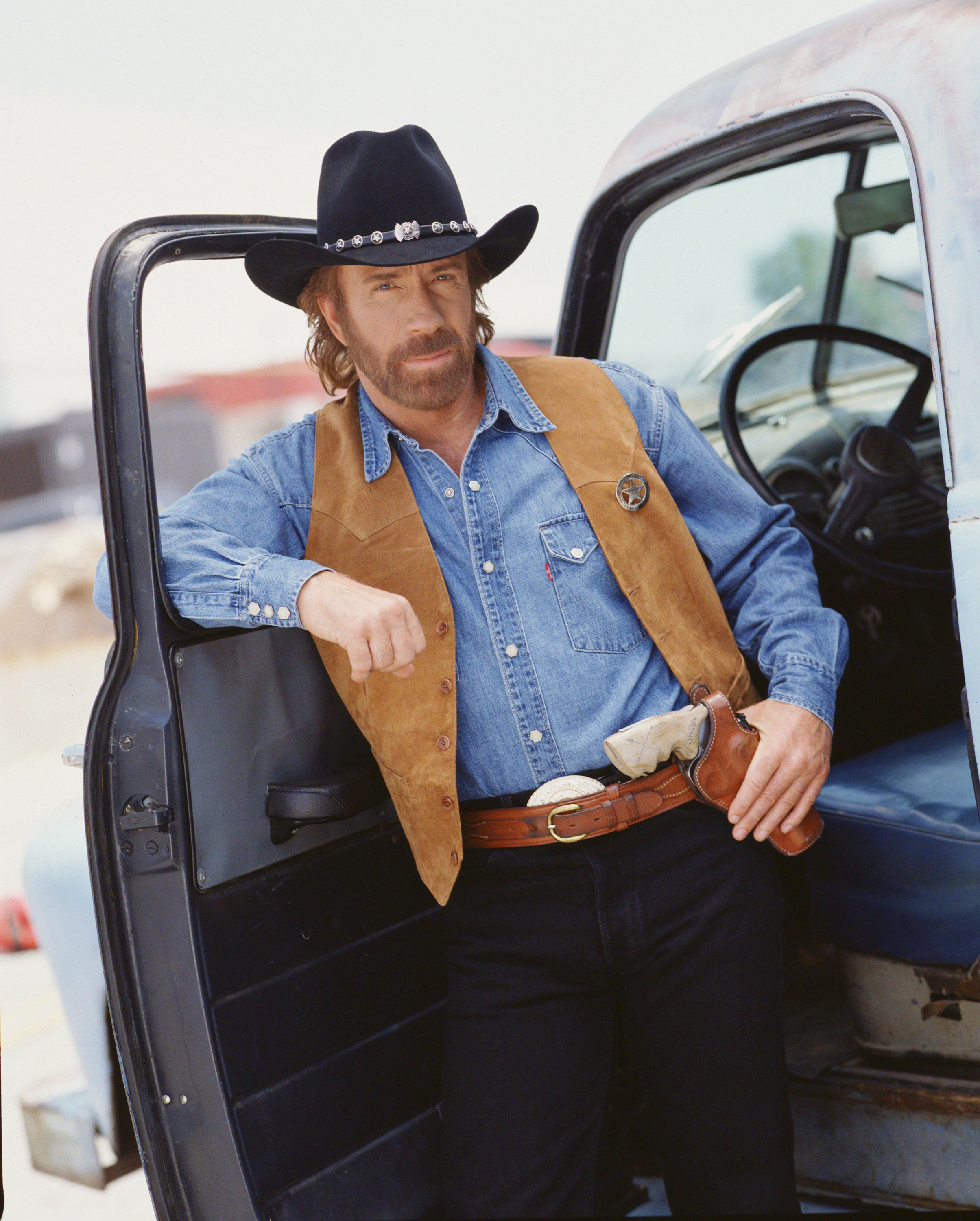 Chuck Norris pictured in 1995 as Cordell Walker on "Walker, Texas Ranger." | Source: Getty Images
Chuck is known for his multifaceted career as an actor and martial artist. Throughout the entertainment industry, he has achieved iconic status and has become a symbol of strength and masculinity.
He has graced the screens of various films and TV shows, captivating audiences with his charismatic presence. Notable among his film credits are "The Hitman," "The Delta Force," "Missing in Action," "Firewalker," and "Sidekicks." The hit series "Walker, Texas Ranger" firmly cemented his status as a cultural icon.
Beyond his acting pursuits, he is also a celebrated martial artist, with his expertise in taekwondo being particularly showcased on screen.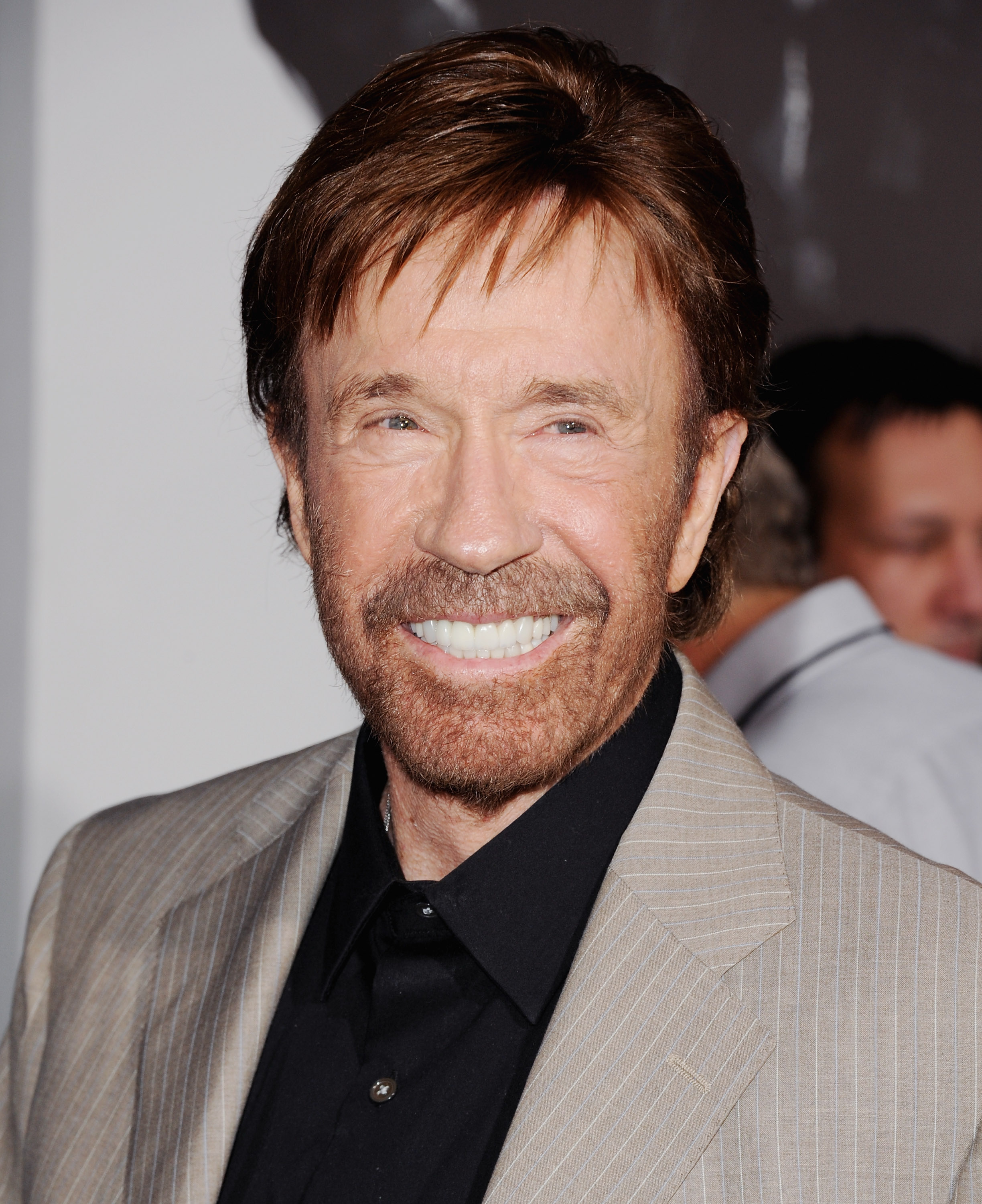 Chuck Norris arrives at the Los Angeles Premiere of "The Expendables 2" at Grauman's Chinese Theatre on August 15, 2012, in Hollywood, California. | Source: Getty Images
Despite growing up without a paternal figure, Chuck is consistently praised for embodying masculinity. Interestingly, he has admitted to having grappled with insecurities in the past.
Chuck and his two siblings were all raised by their mother, Wilma Norris Knight, after their father abandoned the family. In search of a better life, they eventually moved to Los Angeles.
Wilma has always been quite the prayerful woman, and Chuck credits her with shaping him spiritually and instilling a strong sense of responsibility that has carried over into his family life.
Presently, the actor has quite a large family. At 83, Chuck is still strong and has inspired his twins to follow in his footsteps and earn the black belt. He also supports his kids whenever they need it.
Meet Chuck's grown-up kids, who still make the big, powerful man sentimental and sensitive.
The Chuck Norris Legacy: His Children and Their Diverse Paths
The athletic actor enjoys spending much time with his loved ones at home. Despite his muscular physique, Chuck is a "softy" who cooks for his big family. He has five kids he shares with three women.
Chuck has two sons from his first marriage to his high school sweetheart turned ex-wife, Dianne Holechek, with whom he tied the knot in 1958: Mike, born in 1962, and Eric, born in 1964.
Following in Chuck's footsteps, Mike pursued acting at an early age. As a teenager, he landed his first minor role in his father's 1979 film "A Force of One" and appeared in a few episodes of "Walker, Texas Ranger."
Mike subsequently delved into stunt work, featuring in movies such as "Rush Hour 3." He also ventured into behind-the-camera roles, including writing and directing faith-based films.
A religious man, Mike voiced concerns about the declining state of the American church and the perceived influence of the "enemy" on society and individuals. He expressed his worries and mentioned praying for his children in these challenging times.
Mike has been happily married to his wife Valerie since 1992. Together, they are raising three children.
Like Mike, Eric also followed in their father's footsteps. He has focused on stunt work and has over 100 stunt credits. His skills were featured in notable projects such as "The Town," "Agents of S.H.I.E.L.D.," and "Sons of Anarchy."
Besides his impressive stunt work, Eric is a competitive racecar driver who has participated in over 80 events. He is also happily married to his wife, Stephanie, and they have four children.
Chuck has a third child named Dina DiCiolli, who came into his life through a brief affair with a woman named Johanna many years ago. This affair occurred during his time in the U.S. Air Force.
After Chuck divorced his first wife in 1989, he married Gena O'Kelly in 1998.
In his memoir, "Against All Odds: My Story," Chuck revealed that he met Dina's mother while stationed in California. Dina only discovered the truth about her biological father when she overheard her mother discussing Chuck with a friend. Chuck's memoir read:
"I didn't need DNA or blood tests. I went to her, wrapped my arms around her, and we both started crying. At that moment, it was as if I had known her all my life."
Despite the unexpected revelation, Chuck wholeheartedly accepted Dina and embraced his role as a father. Today, Dina, who now has a family of her own, shares a close and loving relationship with her famous dad.
After Chuck divorced his first wife in 1989, he married Gena O'Kelly in 1998. He and his current wife welcomed twin children: a son, Dakota, and a daughter, Danilee, in 2001.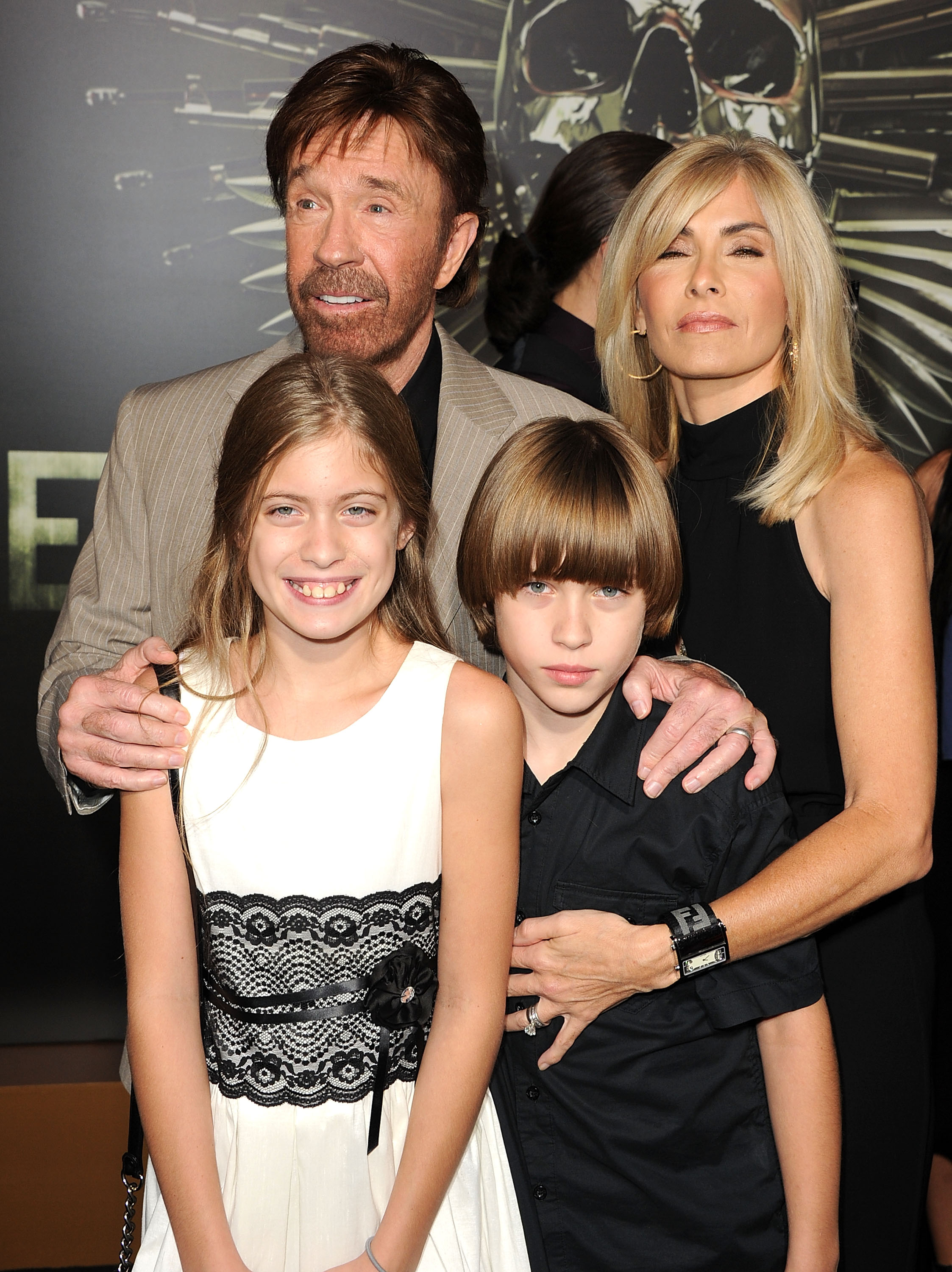 Chuck Norris, Gena O'Kelly, and their twin children Dakota and Danilee arrive at the "The Expendables 2" Los Angeles Premiere at Grauman's Chinese Theatre on August 15, 2012, in Hollywood, California. | Source: Getty Images
While it's unclear if Dakota is interested in entering Hollywood, Danilee seems to avoid the spotlight despite having a brief appearance in her dad's 2005 movie "Texas Ranger: Trial By Fire."
Despite their apparent lack of interest in the entertainment industry, the twins have developed a passion for martial arts, just like their father. They trained for eight years and earned their second-degree black belts in 2015.
In 2021, Chuck took to his Instagram to share the exciting news that Danilee and Dakota had successfully earned their fifth-degree black belts. He shared that they had trained extensively to achieve their Master Rank, which made him and Gena the proudest parents in the world.
He then expressed immense pride as he had the honor of donning his twins' uniforms on stage.
Dakota expressed his love for his dad on Instagram, noting that he looked up to him. During the 2020 Father's Day celebration, Dakota captioned that he is the "best dad" he could ask for.
Dakota shared three adorable photos of himself with his dad. It featured his childhood photos of himself and an updated picture of them inside a gym.
Chuck's ever-growing family also relishes their passion for exploring new destinations and embarking on thrilling adventures.
read more at AmoMama