Donnie Wahlberg's Autistic Stepson Singing Wows Audience - Proud Stepdad Feels 'Blessed' With Boy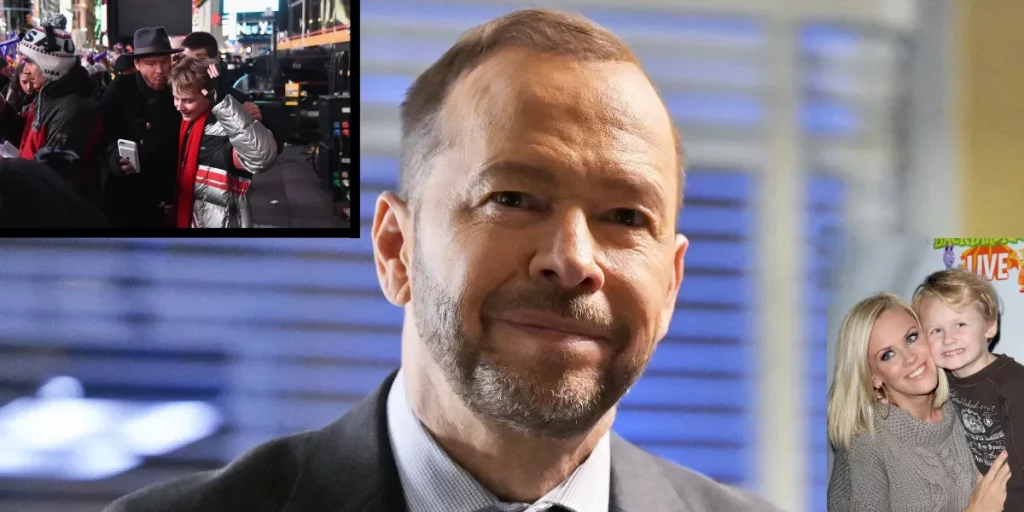 Donnie Wahlberg, co-founder of New Kids on the Block, has changed his bad boy status to become a father. He has two sons of his own and a stepson with autism. He shares his biological sons with his ex Kimberley Fey, and a stepson with his current partner Jenny McCarthy.
Wahlberg and McCarthy reunited their families almost seamlessly, and all three boys treat each other like blood brothers. Wahlberg is very protective of his entire family, especially his three sons.
Wahlberg's stepson Evan Asher, a musician, recently released his first song with the help of his stepfather. The lyrics were written by Evan and the music was composed by Evan, Wahlberg and Evan's stepbrother Elijah, with Wahlberg as the song's executive producer.
Evan released the song "It Doesn't Matter" on YouTube two weeks ago along with an official music video. He immediately received positive reviews from everyone who heard the "masterpiece".
One fan said they had the song on repeat all night, another called him a "true rock star" and a third said the song was a work of art. One person said he's so young and so talented and is looking forward to more music.
One woman said that watching Evan follow his dreams and release music it warmed her heart, because it inspired her. She said:
"Evan was the first person I ever heard of had the word autism; now I'm raising my own autistic daughter, and that gives me hope that she can succeed too."
Evan already has supporters, but none more supportive than his family.
His mother, stepfather, and stepbrothers all share their feelings about Evan chasing his dreams.
What Does Wahlberg Feel About His Stepson's Song?
Originally, Evan wrote the song and had no plans to sing it himself. With a little encouragement from his stepfather and stepbrother, the lead vocalist for the band Pink Laces, Evan agreed to give it a try.
Elijah became Evan's partner in the process, showing him how to comfortably sing the music he wrote. When it came to filming the music video, the boys turned to their father for help.
Now a filmmaker, Wahlberg enjoys helping his sons bring their visions to life in music videos. Wahlberg said of how he felt about helping his sons:
"It was a joy to help Evan make his song a reality. He is such an incredibly sincere young man who really has the heart of a saint and the spirit of an artist."
Wahlberg clarified that nothing had been handed to Evan, and he had to work as hard as anyone else to prove that he was worthy of having his song produced. Wahlberg then said he couldn't feel prouder of Evan than he did when he released the song.
Wahlberg reveals nothing was given to Evan and he had to work as hard as everyone else to prove his song was worth producing. Wahlberg then said he couldn't be more proud of Evan than since the song was released.
When Did Evan Call Wahlberg "Dad" for the First Time?
Jenny McCarthy and Wahlberg met when McCarthy was Evan's single mother. She struggled to raise her autistic son and live her romantic life, but when she met Wahlberg, everything worked out for her.
The couple took the time to get to know each other, and see if their children got along well before they took their romantic relationship seriously. However, both knew that they had met their future spouse.
Evan never called Wahlberg "Dad" until the day Wahlberg proposed to McCarthy. She explained that she was sitting in the same room when Evan and Wahlberg left, and Evan returned to the room with a card that said "Will" and two more cards that said "You" and "Marry."
Reflecting on that day, McCarthy said the next thing that happened was Wahlberg came into the room wearing a shirt that read "Me?" I cried saying Yes as Evan exclaimed:
"I have another dad!"
She recalled they all got emotional at this point, and cried tears of joy together that they were finally a family. Evan was even honored to walk his mother down the aisle at her wedding to Wahlberg.
Speaking about their wedding day, McCarthy shared that it was very special because she had her son by her side during one of the most important moments of her life, and he had such a strong bond with Wahlberg. which made her emotional.