Heartland actress Amber Marshall's rustic ranch wedding
While she's known to Heartland fans as Amy Fleming The Horse Whisperer, 25-year-old Amber Marshall was married and dated for three years before landing a role in the popular family-friendly CBC drama series. Married her boyfriend Shawn Turner, a 26-year-old photographer.
Family and friends - including many members of the Heartland cast and crew - gathered at the couple's ranch near High River, Alberta, for a romantic ceremony and reception. Fittingly - given that the animal lovers first met at a horse show - their loyal steeds played a starring role in the day.
Amber tells Hello! Magazine she couldn't have imagined marrying anywhere else but High River, where the show is also filmed, and her cherished ranch was the obvious venue.
"I'm a homebody and so is Shawn," she says. "Right away we thought, 'We're having it at home.'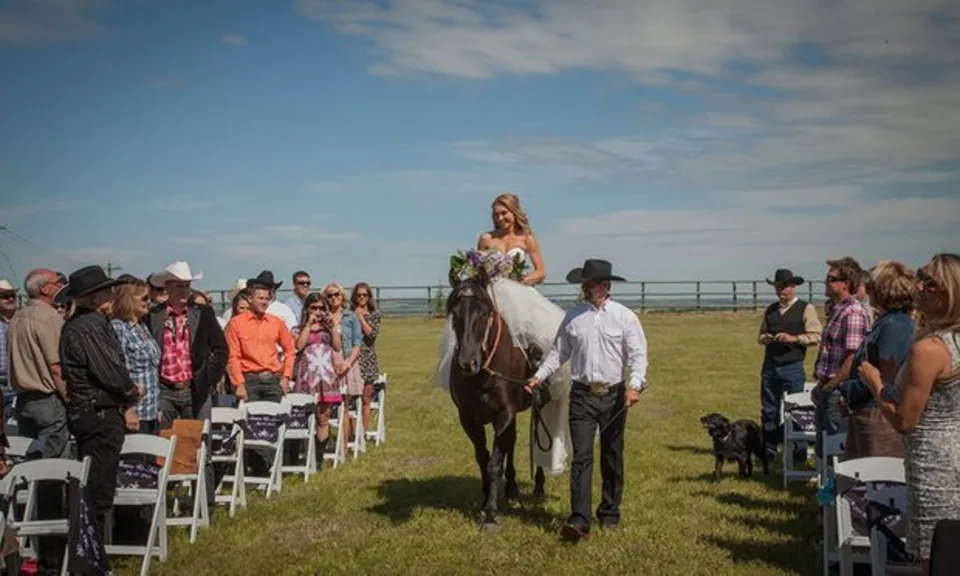 The bride enjoyed planning every aspect of the laid-back affair. "We were our own wedding planners, and it wasn't stressful for me," says the native of London, Ontario.
With supportive loved ones willing to pitch in, the big day was filled with personal touches, like the altar, which was hand-crafted by Shawn himself. "The altar was the most beautiful memento of our day," says Amber.
It also set the stage for her favourite part of the occasion - arriving on horseback to meet her groom. Wearing a strapless gown by Private Label by G and carrying a lilac bouquet arranged by her grandmother, Amber made a stunning entrance on her horse, Hawk, riding sidesaddle as her father - who only learned to work with the horse moments before the ceremony - held the reigns.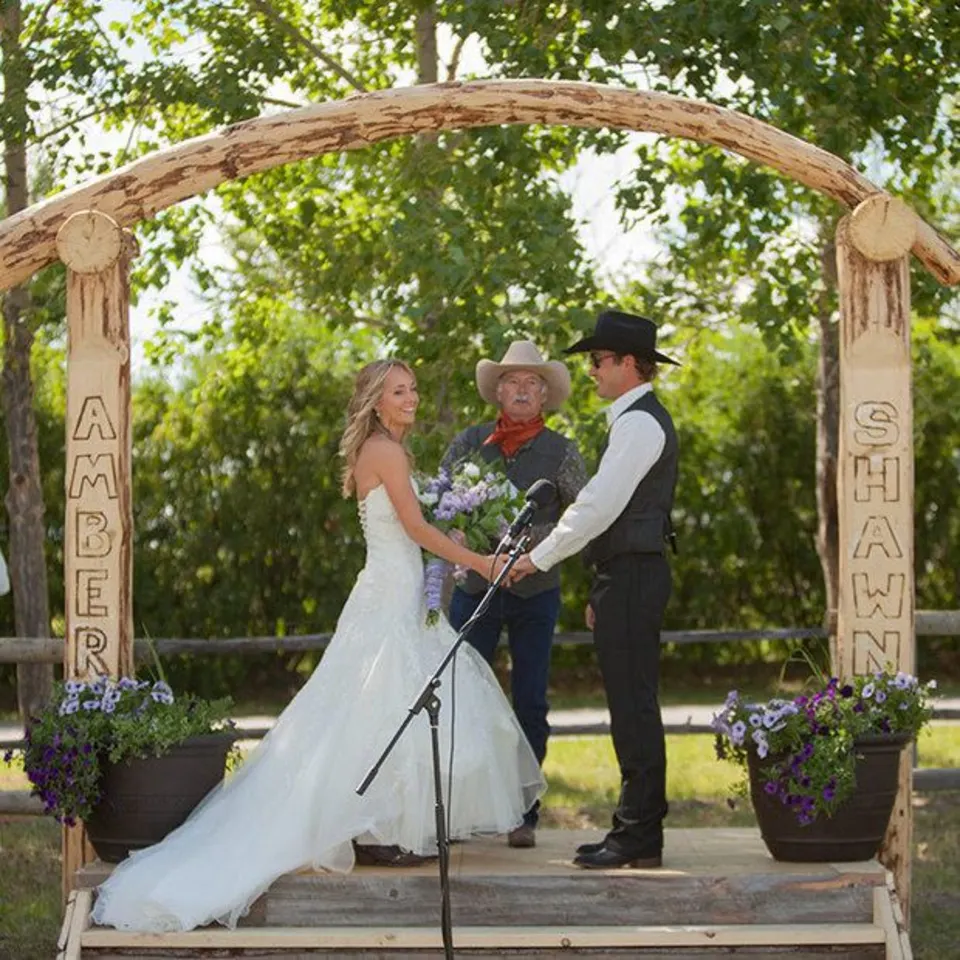 The television actress is used to being in the spotlight, but exchanging vows with her groom in front of 150 of their loved ones presented an entirely new thrill.
"I was emotional. I thought, 'I can't believe this is real!'" she said. "I thought I'd be more nervous but it was a lot of fun."
Following their first kiss as husband and wife, the bride and groom saddled up and galloped away - if not quite into the sunset, at least toward the reception. "The applause made the horses a little nervous," recalls Amber. "So they went off a little quicker than usual. It was quite an exit!"
CLICK THE IMAGE FOR THE GALLERY: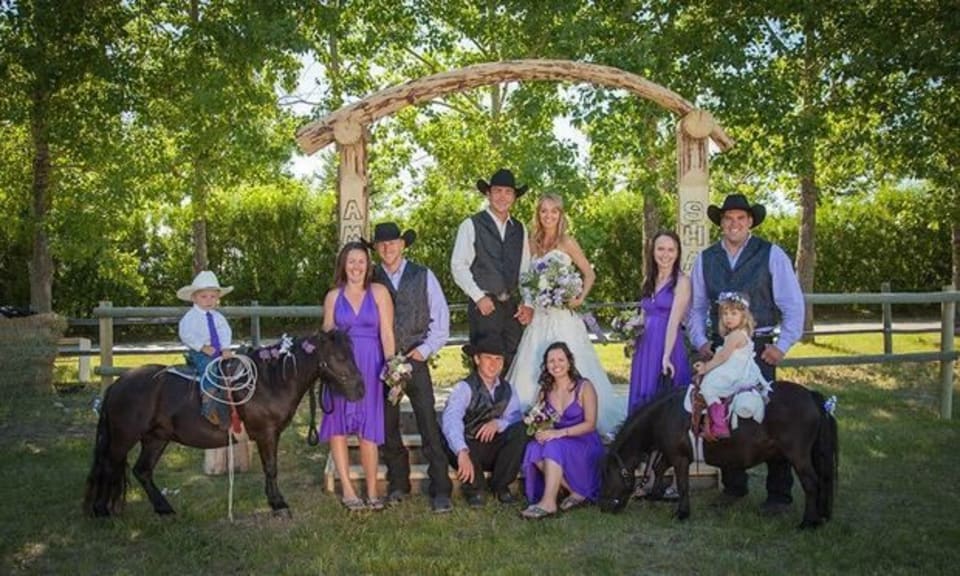 That evening, under big white tends, guests sat down to toast the newlyweds. After tucking into a meal prepared by the same caterers who work on Heartland, Amber's off- and on-set families mingled.
Having co-workers like Michelle Morgan and Chris Potter there was especially meaningful to Amber because in the six years that the show has aired, they've become family to her as well. "I don't have a sister, but having Michelle there, who plays my sister on the show, was so important to me. It was like having a sister there."
The low-key bride wanted her guests to feel completely at ease, which meant leaving stiff formal wear and stilettos at home. "Some people wore jeans and boots, full western attire," she says. "I wanted everyone to be casual and have fun."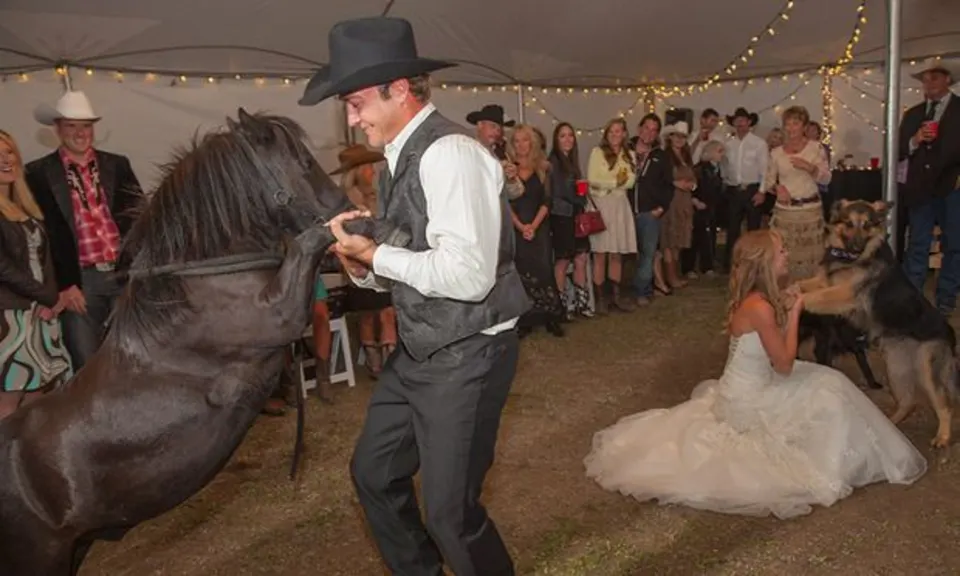 Amber created a play list that made her guests glad they could hit the floor in comfort - but first she and her husband shared their first dance to Garrett Hedlund's "Timing is Everything."
When it came time for speeches, each of their fathers spoke. Then Amber's TV father, Chris Potter, had his chance to toast the bride and groom as the close-knit cast joined in wishing them well.
As cameras are already rolling on the latest season of Heartland, Amber and Shawn have put honeymoon plans on hold. "He has a lot on the go, just like me," Amber says.
Regardless of what her character faces on the small screen, Amber's long love story has only just begun.
Photos: José Paulo MPA