Kevin Costner Misses Chic Event to Pull Kids Out of School & Stay at Old Ranch
"Yellowstone" Kevin Costner, father of seven, lives with his wife of 18 years and their children at their old two-bedroom ranch.
The actor worried when he became a father in his 50s.
He skipped the Golden Globes Awards to stay with his family and shared a message with his fans.
On January 11, 2023, Kevin Costner shared an Instagram video where he spoke to his fans about missing that year's Golden Globe Awards. The actor explained that he and his wife had to pull their children out of school on January 10, 2023.
Santa Barbara's freeways had flooded for the second time in five years, and Kevin and his family found themselves on the wrong side of town. The family couldn't get back in time the night before and didn't have access to their house the following day.
The actor revealed that the freeway was closed and that he and his wife, of 18 years in 2022, had wanted to attend the event and even had their outfits ready. Ironically, Kevin won an award at the event for his role as John Dutton in the "Yellowstone" series.
Regina Hall presented the accolade and read that her fellow actor wanted to be at the event before going off script and joking about him really wanting to be there. The "Scary Movie" actress read that the winner had failed to attend because of the rain and flooding.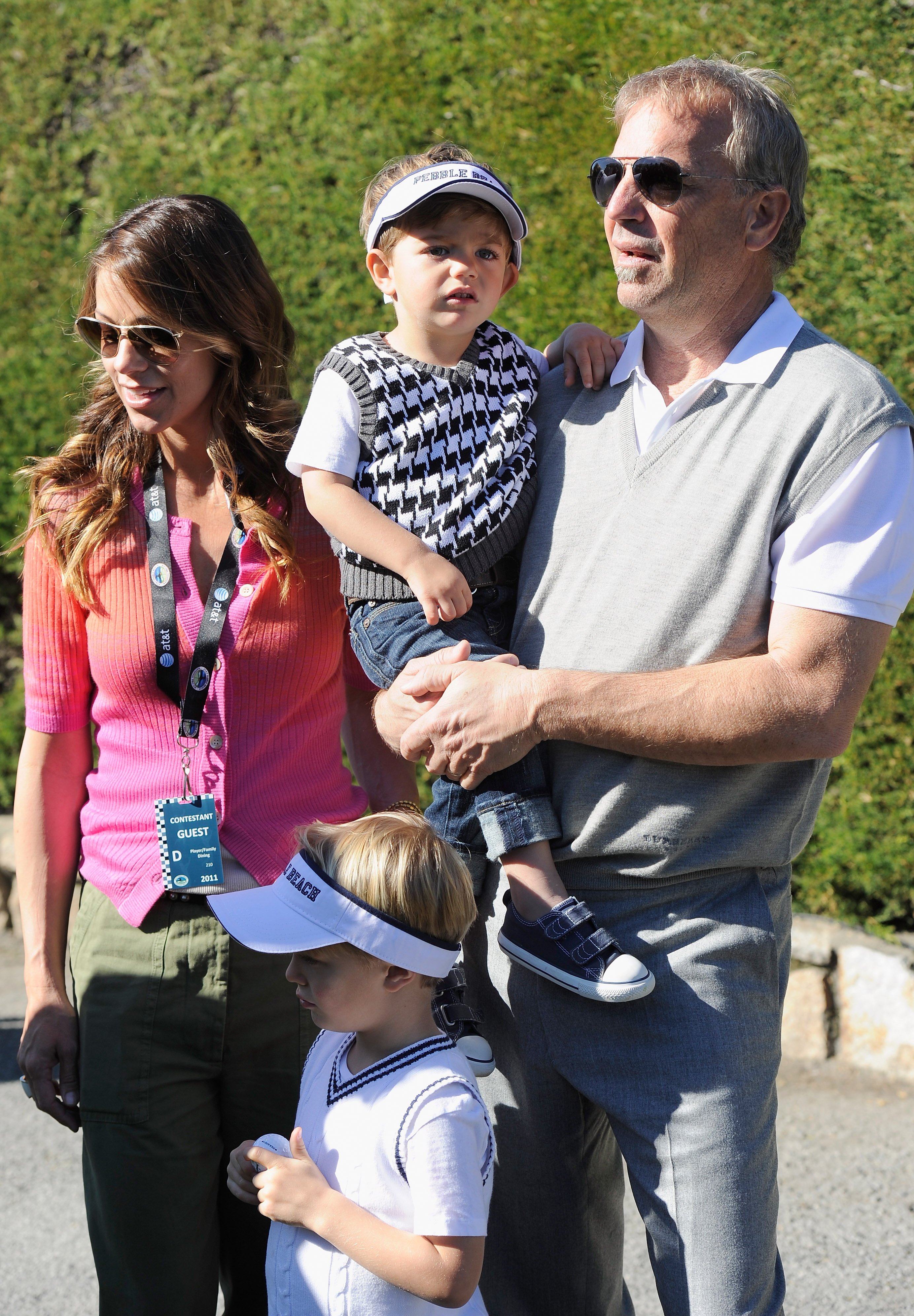 Kevin Costner with family members during the 3M Celebrity Challenge on February 9, 2011, in Pebble Beach, California | Source: Getty Images
Hall noted how Kevin had to take shelter in Santa Barbara and mocked him by smacking her forehead and saying, "Jesus," eliciting laughter from the crowd. However, when fans saw Kevin's clip where he explained his whereabouts, they sympathized with him.
One person urged those who couldn't say nice things rather keep quiet and noted, "family first." Another Kevin fan criticized Hall for "talking badly" about Kevin's decision to stay put with his family.
A third person felt the star didn't need to apologize for missing the event because it wasn't important. Reiterating what the other fan had said, the person urged Kevin to "always [put] family first."
The Instagram user felt the actor was blessed that the storm didn't destroy his beachfront property and that his family was safe. Someone else noted how "Yellowstone" was about family and home and believed that came first before encouraging Kevin to "stay safe."
source amomama