Tom Selleck & Wife of 34 Years Have 'Yin & Yang' Relationship after Secret $75 Wedding Ceremony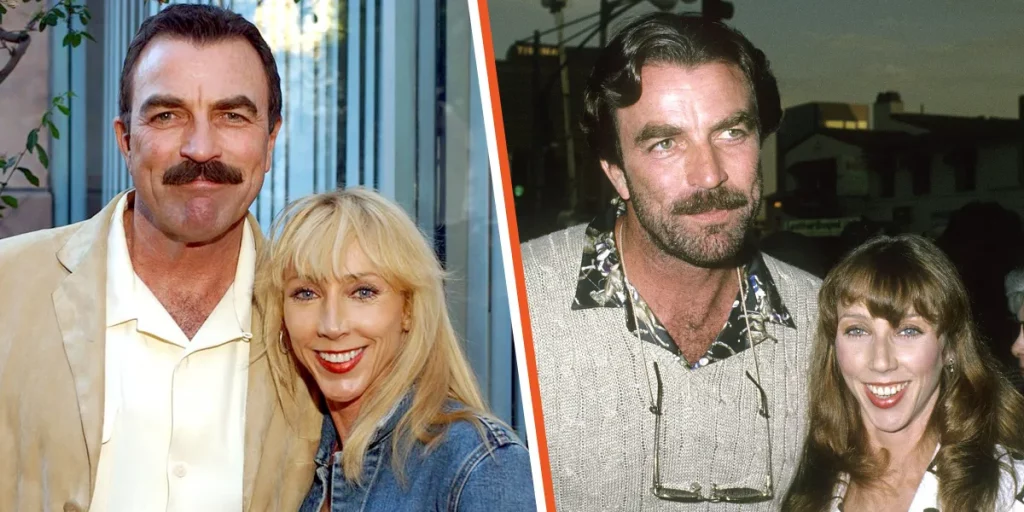 Tom Selleck went through a divorce, which he called as one of his biggest worries. But not long after he met the lady he married in a $75 ceremony. The couple are still together more than 30 years later.Discover What the actor had to say about his second marriage.
Tom Selleck, an American actor, has earned enough money and fame in Hollywood thanks to his exceptional acting skills. The actor is well-known for his facial features , such as his thick eyebrows and signature mustache.
Given his acting talent and handsome looks, it's no surprise that Selleck remains at the top of his game. Since making his acting debut in 1980, the Hollywood star has captured the world's attention.
Selleck's career skyrocketed after he took on the role of Hawaii-based detective Thomas Magnum in the television series "Magnum, P.I."
Tom Selleck' career began with the television series Magnum, P.I
For years, the actor was a permanent face in the series Magnum P.I after he took on the role of Hawaii-based detective Thomas Magnum, and during that time, a lot of things in his life changed. Selleck left the series in 1988 to retire from show business and focus on his family.
Soon before his announcement, the award-winning actor welcomed daughter Hannah and was struggling to balance work and home life. Selleck stated in an interview with People:
"I worked 90 hours a week and did a movie every break. I quit Magnum to have a family."
Although the "Three Men and a Baby" star only chose to leave after his daughter was born, he also wanted to take a break in order to focus on being a good father to his other kid, Kevin.
The son of Selleck and his first wife, Jacqueline Ray, is named Kevin. The former couple got married in 1971, but after eight years of marriage, they started living apart.
There were rumors that the actor and his wife split up after the actor's breakthrough performance in "Magnum, P.I." Selleck admitted in response to claims:
"That's the cliché, that's the meaty story. 'Spouse Dumps Spouse After She Gives Him the Best Years of Her Life.' But it's not true, and it's not nice, or fair, or kind. We separated a full six months before I even shot the pilot of Magnum."
Unfortunately, Selleck and Ray were unable to reconcile their differences and reconcile their relationship. After 11 years of marriage, they ultimately got divorced in 1982.
DETAILS OF SELLECK AND MACK'S LOVE STORY
After the divorce, the Hollywood actor was devastated, telling People that it was one of his greatest sorrows since he had always meant to stay married for the rest of his life.
Unfortunately, his plan was not feasible with Ray, but it looks to be coming together after many years, as he is enjoying many years of marital happiness with his second wife, Jillie Mack.
The lovebirds first crossed paths in 1983, a year after Selleck's first marriage ended. The "Blue Bloods" icon was filming in London for his movie, "Lassiter," when he developed a strange liking for the musical "Cats."
The couple first came into contact in 1983, one year after Selleck's first marriage came to an end. The "Blue Bloods" legendary star began to have an odd affinity for the musical "Cats", while he was filming in London for his movie, "Lassiter."
Fellow "Lassiter" star Jane Seymour could attest to the actor's obsession with the musical as he always went on and on about how amazing the show was.
However, Seymour could not understand why Selleck kept watching the show. The movie star would later reveal his affection for the West End Musical was because of his attraction to Jillie Mack, the high-energy dancer who featured as Rumpleteazer.
Eventually, Selleck approached Mack backstage, and she asked him if he wanted to have a cocktail later. The actor agreed, after which they would have a second date, which saw the start of their whirlwind romance.
After her contract ended, Mack would later move to Hawaii, where her man was filming "Magnum, P.I." Not long after, she began making the headlines, appearing everywhere with Selleck, including the actor's 1986 Hollywood Walk of Fame Induction.
Selleck and Mack married in a secret wedding ceremony in the Dream Maker near Lake Tahoe in Incline Village, Nevada on August 7, 1987. Because the ceremony was so limited, the couple arrived at the chapel in casual clothing before changing into their wedding equipment
Selleck and Mack walked down an emerald green-carpeted aisle beneath a white trellis adorned with fresh roses. They then kneeled at the altar and were joined in front of family members.
The couple then went to pick up a $27 marriage license at the Washoe County Clerk's Office in Reno, accompanied by Selleck's parents, Robert and Martha, and his brothers. The news of Selleck and Mack's wedding finally hit the press, much to the surprise of the public and media outlets.
According to reports, the wedding ceremony only cost $75. Since exchanging wedding vows, they became fan favorites, proving that a couple can stay in love for decades.
Selleck considers himself to be a romantic and has stated that he always tries to do nice things for his wife. The actor claims that:
"I get up before Jillie and put on the teakettle, so when she gets up, her tea water is hot. I think I'm pretty romantic."
Aside from being a wonderful couple, Selleck and Mack also love their daughter Hannah. Hannah, who was born in 1988, is a successful equestrian and was pursuing her MBA in March 2021.
SELLECK'S THOUGHTS ABOUT HIS MARRIAGE
Selleck and Mack have been married for 34 years, to their surprise, Selleck doesn't know the secret to their long-lasting marriage. All that matters is that he is happy. In his own words:
"We're both independent. There's a lot of yin and yang in us. I'm kind of quiet. She's got this joie de vivre. I don't know what our secret is, but I'm happy."
Hopefully, Selleck's happiness will last a lifetime, and the lovebirds will be an inspiration to many young couples.. They now live on a 65-acre ranch in Ventura, California..