Beth and Rip's breakfast scene remains a "Yellowstone" highlight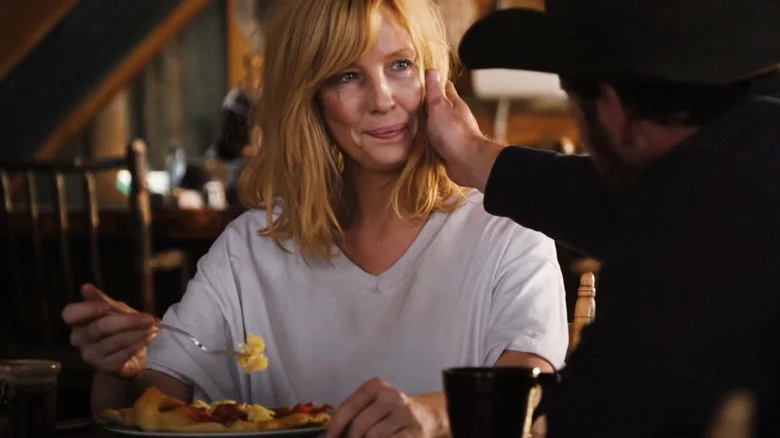 The best coupling on "Yellowstone," the cable television smash hit modern Western drama, is undoubtedly Beth Dutton (Kelly Reilly) and Rip Wheeler (Cole Hauser). Of course, Beth is one of the show's most prominent characters, and her fiery temper can cause her to come to blows with people with whom she disagrees. Meanwhile, Rip is a reassuring presence in Beth's life, and by the present day, their simmering passion has become a fixture in both of their lives.
Even Reilly is a supporter of Beth and Rip's relationship. Reilly expressed her desire for Beth and Rip to have a brighter future in an interview, expressing her hope that they would be able to live together peacefully, free from the very sorts of dramatic tension that makes for wonderful television. It should come as no surprise, then, that Reilly's favorite Beth and Rip moment in all of "Yellowstone" is a calm scene from Season 3 in which Rip cooks breakfast for Beth. According to a making-of film, this breakfast scene from Season 3 is not just one of the best in "Yellowstone" history, but also one of the best moments for the show's main couple.
The cast, staff, and fans of Yellowstone are all huge fans of the breakfast scene between Beth and Rip
Kelly Reilly, who plays Beth, and Cole Hauser, who plays Rip, as well as series creator Taylor Sheridan, both praise the Season 3 breakfast scene as a highlight of the series in a behind-the-scenes film focused primarily on the couple's romance on the official "Yellowstone" YouTube channel.
Reilly thinks the sequence is crucial because Beth isn't used to being vulnerable. She shows Rip her affection by letting her guard down in an out-of-character manner, coming before him in her PJs and eating a dinner he prepared for her. Sheridan, meantime, emphasizes the ways in which their dynamic challenges conventional gender stereotypes without watering down either Rip's or Beth's inherent masculinity or femininity.
And many viewers have added their own heartfelt compliments for the breakfast scene in the video's comment area. The scene moved at least one user, @dawnmarie506, to tears, for example. There were several responses like @thetowerambience's, which said, "Kelly was absolutely AMAZING in the breakfast scene, makes you fall in love with her."
Everyone who worked on the sequence and everyone who saw the final result tend to agree that Beth and Rip's breakfast scene in Season 3 is one of the best moments in the entire "Yellowstone" series.