'Full House' star John Stamos, 59, Lives with Young Wife & Cooks for only Son - Family changed His wild Life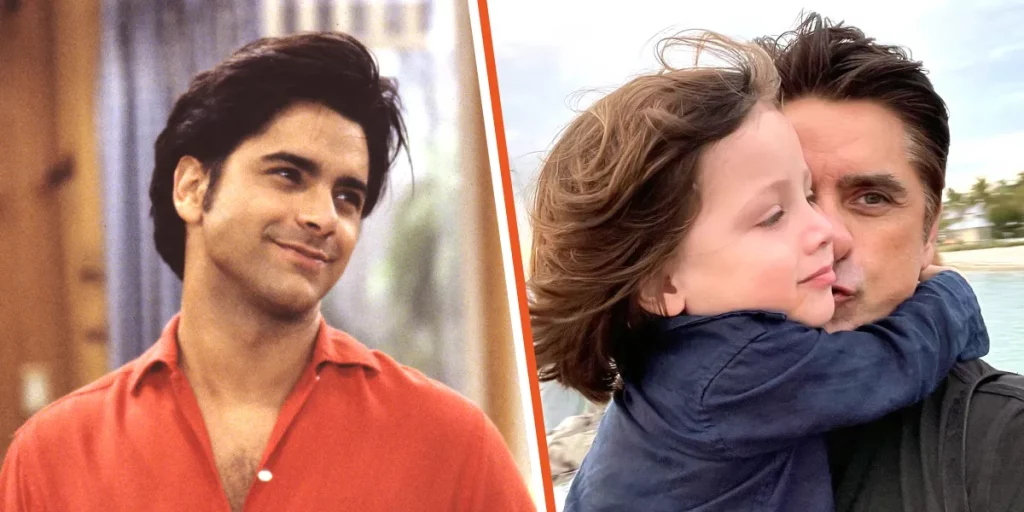 Actor John Stamos is best known for his role on the hit sitcom "Full House," which ran for eight seasons from 1987 to 1995. He played Jesse Cassopolis, who moved in with his brother-in-law, Danny Tanner.
In the series, Tanner is a widower with three daughters: DJ, Michelle and Stephanie. Uncle Jesse, a rocker, joins the family to help raise them.
At first, Jesse was hesitant to move in with a family of four, but he eventually warmed to the girls and realized that he enjoyed being the parenting figure in their lives.
Stamos, who has two younger sisters in real life, stood out on the show, as well as the series being an ensemble. His good looks, fun personality, and musical ability were a perfect balance between his and Tanner's traditional parenting techniques.
Stamos, whose father was of Greek descent and the family's last name "Stamotopoulos," also worked behind the scenes and was responsible for reviving the series after it ended in 1994. He also wanted to change the last name to his character, which was originally Cochran. and went with Katsopolis to highlight his Greek heritage.
The California native's role on the TV show garnered him a good reputation. He became a fixture in many people's lives, being the heartthrob that never breaks hearts, a pal that never lets one down, and an individual who has been considered one of the most underrated stars of all time.
Despite his impeccable professional image, Stamos's personal life was not always ideal. Stamos, who landed his first professional role as Blackie Parrish on General Hospital, admitted in a 2022 interview that he sometimes felt indifferent about his life.
"For the longest time, when I was not sober, when I was fuzzy, I thought, 'I've done it all.' I didn't want to kill myself, but I didn't care if I died."

However, he later realized that he wasn't done yet. "Not even close," he said.
The TV star got a wake-up call in 2015 after being arrested for driving under the influence. When recalling that fateful evening, Stamos shared that he got inside his car thinking he could still drive, but he couldn't.
"I just have flashes in my mind about driving in circles. And people were driving near me, and they would roll the window down, 'Uncle Jesse, pull over!'"

he recounted.
After that incident, the musician entered rehab, which he described as the most challenging thing he's ever done. A buddy called him and said his mother was worried about him. The friend told the Soap Opera Digest Award winner that his mother would call and say, "I'm worried about Johnny."
Stamos admitted he had fooled everyone, but after that experience he had to learn to pull himself together. In fact, he found love in the process.
Family Life after "Full House"
Stamos, 59, was single before everything changed in 2015 when he met actress Caitlin McHugh, 36, whom he called "perfect" during a 2017 interview.
The pair of 23-year age gaps first crossed paths while filming an episode of the crime drama series, "Law and Order: Special Victims Unit" back in 2011.
"I played a guy who was egotistical that he thought he should spread his progeny, so he had like 60 kids or something. He was poking holes in condoms and stuff," Stamos recalled in an interview in December 2017.
Interestingly enough, McHugh was one of the women he was trying to have a child with on the show. Off-screen, she was involved with someone else, but they reunited several years later.
In a reboot of "Full House," called "Fuller House," which aired from 2016 to 2022, McHugh's roommate appeared in one episode of the ABC series, and she was in the audience.
Stamos walked in and asked her whether she was following him around, to which she replied, "No." He said, "That's why I love her. She's like, 'What?' No. I haven't thought of you twice."
Nonetheless, the pair fell in love, and in October 2017, Stamos asked McHugh to marry him. He proposed at Disneyland after learning they were expecting their first child together. Stamos first asked for the blessing of the model's parents, who told him it was about time.
McHugh is an active Disneybounder, described as a superfan who dresses up in character at the amusement park. So, with that in mind, her love thought it best to pop the big question at the park in Disneyland.
Of that special moment, Stamos revealed they both shed tears. "I pulled the ring out. I don't know how she did it, but she went to hug me and slipped her finger right in it. When the park closed, we ran around the park in our Disney onesies."
The lovebirds, who have been married before, walked down the aisle in 2018 and welcomed their only child together, son Billy, that same year. Stamos gave an update about his life as a family man during an interview in August 2021.
continue reading on news.amomama.com