Grey's Anatomy: Caterina Scorsone isn't just a hero on TV, she's one IRL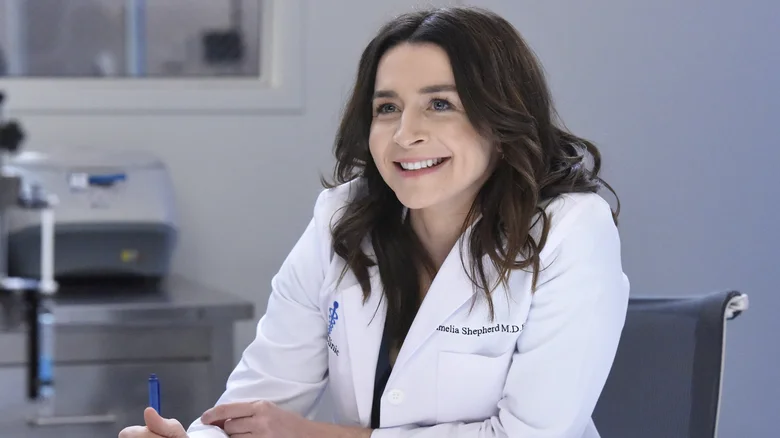 Even though there's a big battle between comic book superheroes in franchises, there are still some cool TV shows about regular heroes doing their thing, like "Law & Order," "One Chicago," and "Grey's Anatomy." Lots of actors play these fictional heroes characters, but thankfully not all of them have to deal with life-or-death situations in real life. However, Caterina Scorsone actually had to be a hero in a life-or-death situation.
Scorsone is known for playing Dr. Amelia Shepherd on the popular show "Grey's Anatomy," which is almost done with its 19th season. Amelia is the youngest sister of Derek Shepherd and caused some issues for his ex-wife on the spin-off "Private Practice." She first appeared on "Grey's Anatomy" in 2010 to try to make amends with her brother and has made a few appearances at Seattle Grace, but eventually moved to Grey Sloan Memorial Hospital permanently. Although Amelia has had some struggles with sobriety and love, she's a skilled neurosurgeon who has saved many lives. Recently, Scorsone had to save lives in real life when her home in Pasadena burned down.
Caterina Scorsone took to Instagram to share her scary ordeal of rescuing her kids from a house fire
On April 3rd, Caterina Scorsone shared a scary experience on Instagram that happened a few months ago. As she was getting her three young daughters, Eliza, Pippa, and Lucky, ready for bed, smoke started to come up through the tiles around the tub. She saw thick black smoke filling up the house and had to evacuate with her kids in just a few minutes, without even wearing shoes. Sadly, her family lost all four pets - a dog and three cats - in the fire. Caterina shared pictures of her pets on Instagram, saying they are still grieving their loss but grateful for the time they had with them.
Scorsone expressed her gratitude for her family's safety after the fire and the many people who helped them out. She wrote a post about the amazing community that came together during the crisis and gave thanks to the first responders, friends, family, and other communities who offered support. They received clothing, books, toys, and supplies after losing everything in the fire. "The most important thing that matters in life are the people and beings you love" the "Grey's Anatomy" actress wrote.