'Sister Wives' Christine Brown Told to 'Be Careful' with New Partner 'Zero Emotion in His Eyes' on Their New Snaps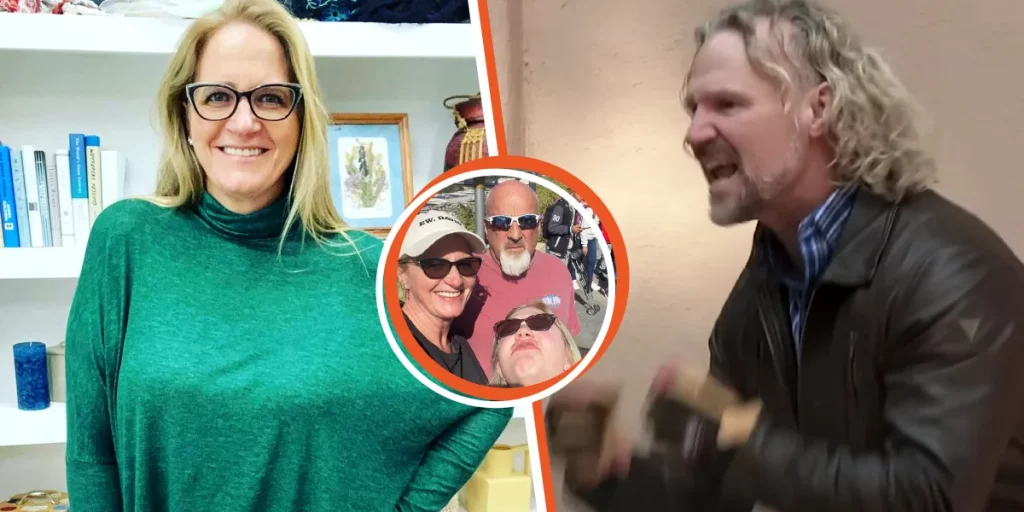 After 26 years of being in an unhealthy relationship, Christine Brown found happiness with a new partner who treats her like a queen.
Christine recently posted a picture on her social media with her daughter, Truely, and new partner, David Woolley. She has a big smile on her face and seems to be having a great time on her family vacation.
In one of Christine's photos, she is seen in a black shirt, sunglasses and a cap with the initials "EW. David" stood next to her new boyfriend David, and daughter, Truely.
Fans couldn't help but rave about the beautiful photos, with many leaving messages of support in the comments. However, not all of them returned Christine's heartfelt feelings, as many expressed their criticism, concern, and dissatisfaction.
Some followers told Christine to be extra careful in her new relationship, warning her to watch out for subtle signs and clues from the TV star's recent holiday photos.
One user wrote, "Does [David] seem annoyed? I think Truley can be a bit much and Christine never corrects her. I.e biting his hand [sic]." Another person warned Christine to be careful, comparing her new beau to her ex, Kody Brown. They divulged:
"Be careful. He has zero emotion in his eyes, sign of a Narcissist. They're amazing at first. AT FIRST. Tread carefully. I think everyone is cheering for you, just not for you with another Kody [sic]."
Before she met David, Christine was in a relationship with Kody Brown, known for his large and controversial plural family on the reality show "Sister Wives." The show followed Kody's relationship with his four wives and 18 kids, grappling with the ups and downs of life as a modern polygamist family.
Christine Brown had an unhealthy relationship with her former husband.
Christine became Kody Brown's third wife in 1994. Meri Brown and Janelle Brown were his first and second wives, respectively.
In 2010, Kody married Robyn Brown. He considered himself in a spiritual relationship with all his wives, but in November 2021, Christine separated from Kody due to irreconcilable differences.
The reality TV star broke the news of her split from her ex-partner through an Instagram post, noting that they had grown apart after over 25 years together. Christine noted that despite going their separate ways, she and her ex-partner would continue to support their beautiful family.
Meanwhile, Kody also admitted that he had broken up with his ex-wife, Christine, saying that her decision to end the relationship, after many happy years together, was very unfortunate for him. I had the utmost respect and love for her.
At the same time, Kody said he and Christine will remain devoted parents to their children. Christine shares a boy, Paedon, and five daughters with her ex-husband; Aspyn, Mykelti, Gwendlyn, Ysabel, and Truely.
Sources report that the former couple had disagreements on important matters, with Kody not valuing Christine's thoughts and opinions.
Kody tried to project an image of being a progressive husband, but he reportedly felt perturbed when his wives didn't cooperate with him.
After Christine's decision to leave Kody, his other wives announced their own split. Kody reportedly thought he had given all of his wives too much freedom.
Christine decided to leave her ex-husband when he began ignoring her and her children. She felt that he was a failure as a husband and a life partner.
Christine Brown has a new partner.
Christine announced her relationship with David on February 14, 2023. However, rumors have been circulating that the two of them were dating secretly since late 2022. In her post, Christine shared a slideshow of three photos of herself and David that she says show how happy they are together.
"I finally found the love of my life, David. The first time he held me close, it felt like my soul took it's first breath. He's wonderful and kind, incredible with my children and an adorable grandpa. I never dreamed I could find a love like this."
A widowed father of eight, David lost his wife, Margaret Lucille Surin Woolley, ten years before he met Christine. Margaret died in Utah in June 2012 at the young age of 43.
Margaret married David in November 1990 and remained married for 22 years until her death. She was known as a loving mother and caring wife, with a compassionate soul and a lively spirit.
Both Christine and David are devoted parents and grandparents who enjoy pampering their children and grandchildren. After Christine confirmed their relationship, David also shared a heartfelt message expressing his happiness for finding someone as special as Christine.
They are often seen exchanging sweet kisses and sharing their exciting lives with their followers. A candid photo of David and Christine doesn't go unnoticed, and they look genuinely happy.
In March of 2023, Christine and her partner took a weekend getaway to Utah. They shared photos from their trip that showed them enjoying themselves immensely. Christine wrote in the caption that life is short, and she loved spending time with her partner.
Christine expressed gratitude for her partner, David, in a previous post. She said that he is an amazing man and he treats her like a queen.
Recently, Christine posted pictures from her recent trip to California, posing in front of Universal Studios Hollywood and the Wizarding World of Harry Potter. The caption read:
"Making memories and going through adventures have always been precious to me. I've been blessed enough with the ability and time to make these core memories with my kids. Adventuring with @david__woolley and Truely in California @unistudios this weekend has been wonderful."
Christine's fans loved her holiday reels and poured their love and gratitude into her new boyfriend. One user added, "I don't care how long this [guy] stays around. He's already spending more time with your daughter than her father!!!
Regardless of naysayers, Christine and David's relationship seems to be going strong,, with news of the latter making an appearance on "Sister Wives" new season circulating online.