Meet the Man Who Made Gibbs: on NCIS, Richard Warmack, the show's First Technical Adviser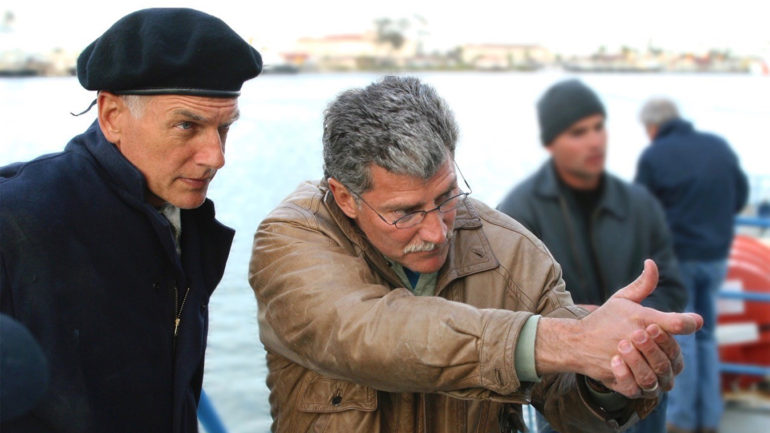 In early 2003, when I was assigned to the NCIS LA field office as an assistant agent deputy, NCIS headquarters called me asking to meet with a producer named Donald P. Bellisario. When I nervously asked headquarters what to do when we met, they told me to make sure two things: get our names right, and we're never the bad guys. It seemed like a pretty easy mission so I went for it.
I met Don at his studio. He tried to work with the Navy to get a show on NCIS years ago, but it didn't work out, and he ended up doing JAG instead. This is clearly his one of his greatest success stories. I can see why it seems to overlap with his depiction of what JAG and his NCIS agents do.
After dutifully informing Don that the agency's priority is to show us for who we are, a small but proud and highly capable organization driven to discover the truth, he led me to an adjoining conference room. where I met no less than 10 authors. Over the next few hours, I was flooded with questions about NCIS, what we did, and how we did it. I told them a few stories and gave them a high-level overview of previous cases I'd worked on that I felt best captured the essence of the organization.
Don wanted me to meet Mark Harmon and tell "him how the agent thinks and acts."The next day I made an appointment with Mark and surprisingly he asked to come to my house. He really wanted to know me personally in my area. The next morning I was late because we had an emergency at work and he was patiently waiting sitting in his car outside my house.Upon meeting him, I soon realized that he was sweet and real. I remember him commenting on what I was wearing: sport coat with a casual shirt and open collar and a T-shirt underneath, and I believe he expected me to wear a suit.Although NCIS agents typically wear suits, I did not that day because of the work involved.
Though I knew he wanted to get my insights, I also felt that he sincerely cared for others. Mark listened intently as I answered his questions and we just talked about my experiences with the agency. At that stage of my career, I had been assigned overseas twice and had assignments on both the East and West Coasts of the U.S., including one at our headquarters in Washington, D.C. Mark was truly interested in hearing about all of those assignments and how the work differed in each.
The next day, I arranged to drive him to the Camp Pendleton Field Office to get the feel of an NCIS headquarters on a Marine Corps facility. During that drive, I felt as though we were just a couple of friends on a road trip. As I would later learn, Mark had that effect on people. He was a celebrity, yet quickly connected with people on a personal level and made them feel comfortable. Mark met with the agents and support staff in the Camp Pendleton office and could not have been more genuine and respectful. As we drove back, I remember Mark gushing about the great work NCIS and its people did. This was the start of what I will always consider a valuable relationship in my life.
I spent a lot of time with Mark and the other cast members on the set as they filmed the first season. He was always indulgent, letting me tell him how to do things that I knew he probably already knew about how law enforcement people do things. Above all, I remember Mark showed such respect for our agency and what we do, and that meant everything to me.
As I continued my role as the technical adviser on the show for a few months, I realized that my responsibilities at NCIS were being affected by my commitment to the show. I recommended one of my friends and mentors, Leon Carroll Jr., to be the full-time technical adviser. Leon had recently retired from NCIS as the special agent in charge of the Northwest Field Office and was living in Los Angeles. He was calm, knowledgeable and the right fit. Leon met with Mark and they bonded quickly and have been great partners ever since. Leon has remained with the show as the technical adviser, and, in my opinion, Mark's trust in him has been a real factor in the success of the show.
Mark and I have remained in touch and friends over the years. He has always been what I found him to be on day one, a kind and caring person of integrity. It is nice to see someone like Mark Harmon represent the great men and women of NCIS. The key has been that Don, Mark and the many others who have put this show on the air always did what was originally requested…they got our name right, and they never make us the bad guys.
This article originally ran on tvinsider.com.